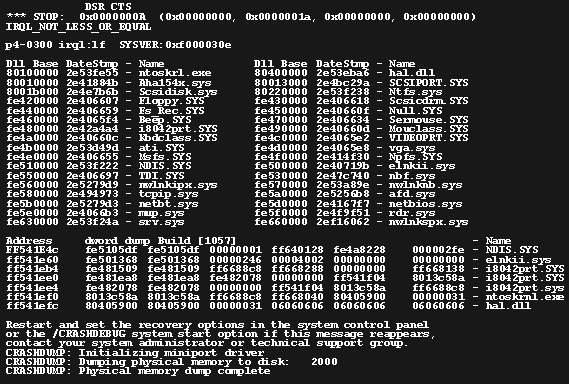 Microsoft Washing Machines:
"Please insert washing powder into drive A:" (No powder.)
"Conditioner not working. (A)bort, (R)etry, (F)ail?" (You put the conditioner in the wrong tray)
"Error 404: Water currently not available." (Check your tap.)
Microsoft Toaster:
"Toast illegally removed. Please stop product next time to prevent further damage." (Wait until the toast pops up.)
"This device was illegally shut down last time. Please check for breadcrumbs and try again." (See above.)
"The driver information file is telling this child device to use a resource that the parent device does not have or recognize." (Don't put Pop Tarts in.)
Microsoft Kettle:
"Illegal water operation. Microsoft Kettle will execute in safe mode." (The kettle's boiled dry.)
"16-bit element subsystem failed to start." (The 'on' switch is knackered.)
"The driver for this device requested a resource that Windows does not know how to handle." (Not enough water in the kettle.)
Microsoft Freezer:
"Freezer has performed an illegal operation, and now needs to close." (Shut the door.)
"To update the drivers for this device, click Update Driver. If that doesn't work, see your thawed out produce for more information." (The freezer's no longer freezing.)
Microsoft Coffee Maker:
"The driver for this device requested a resource that Windows does not know how to handle." (Don't put in tea.)
"Another device is using the resources this device needs." (Unplug the toaster and plug me in instead.)
"This device is not working properly because the BIOS in your coffee machine is reporting the resources for the device incorrectly." (Ok, hands up, who put too much coffee in?)
Microsoft Microwave:
"Windows stopped responding while attempting to start this device, and therefore will never attempt to start this device again." (Who put foil in the damned microwave again.)
"This device cannot work properly until you restart your computer." (Give up now.)
And finally…
"Your registry may be bad."
Get a Russell Hobbs.